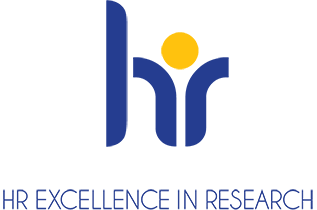 In December 2017, the Fraunhofer-Gesellschaft was awarded the Logo »HR Excellence in Research« from the European Commission in recognition of its outstanding Integrated Human Resources Management. Fraunhofer is one of first organizations for applied research in Germany to receive the Logo.
The European Commission adopted the European Charter for Researchers and the Code of Conduct for the Recruitment of Researchers (in short: »EU-Charta & Code«) in 2005 Charter & Code for Researchers | EURAXESS. The European Union considers the 40 principles of the »EU-Charta & Code« as a major factor for the attractiveness of scientific institutions as employers and for their commercial success. As Europe's leading organization for applied research and as project partner many EU-projects, Fraunhofer fulfills these principles. By signing the European Charter and Code for Researchers in 2013, the Executive Board of the Fraunhofer-Gesellschaft has clearly indicated to the outside world its commitment to this issue.
The »EU-Charta & Code« covers amongst others: recognition of the profession, career development, value of mobility, recruitment principles, selection criteria, postdoctoral appointments.
In order to underline that EU-Charta and Code are implemented at Fraunhofer and continuously are developed in essential core areas, the Board Division Human Resources, Legal Affairs and IP Management decided in May 2016 to submit a »Human Resources Strategy for Researchers – HRS4R« for Fraunhofer and to apply for the EU-Logo »HR Excellence in Research« at the European Commission. A detailed internal analysis and an action plan were prepared for this purpose. In doing so, representatives of the scientific and the administrative staff were consulted as well as staff from research strategies. Here you can find the summary of the internal analysis and the action plan for the Human Resources Strategy for Researchers.