Prof. Dr. Anke Weidenkaff appointed as member of the National Academy of Sciences
The Presidium of the Leopoldina has appointed Prof. Dr. Anke Weidenkaff as a member of the German National Academy of Sciences. The appointment is considered one of the most prestigious awards for natural scientists.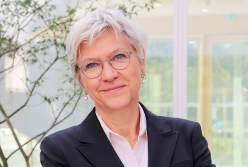 Since 2018, Prof. Dr. Anke Weidenkaff has been Managing Director of FRaunhofer IWKS and professor at the Technical University of Darmstadt for Materials Engineering and Resource Management. Her current research focuses on the development, synthesis and characterization of substitution materials for energy conversion and storage, as well as the development of sustainable materials and next-generation process technologies for fast and efficient closed material cycles.

Since 2020, she has been part of the German Advisory Council on Global Change (WBGU). Her work has received several awards, most recently receiving the Karl Böer Renewable Energy Mid-Career Award in 2022. As a member of the Leopoldina, Prof. Dr. Anke Weidenkaff belongs to the Department of Technical Sciences.
Founded in 1652, the Leopoldina, based in Halle an der Saale, is one of the oldest science academies in the world and, with more than 1,500 members in more than 30 countries, has an extensive network and comprehensive expertise in all fields of science. Scientists are appointed who make a significant contribution to science and society through their outstanding research achievements. The aim of the Leopoldina is to internationally represent the German scientific community and to provide politics and the public with scientifically sound advice.