Fraunhofer IWKS buildings meet highest sustainability standards
The German Federal Ministry for Housing, Urban Development and Construction has awarded the new buildings of the Fraunhofer Research Institution for Materials Recycling and Resource Strategies IWKS. The location in Alzenau, Bavaria has been awarded with a gold certificate and the one in Hanau, Hesse with a silver certificate for sustainable building projects based on the Sustainable Building Rating System (BNB).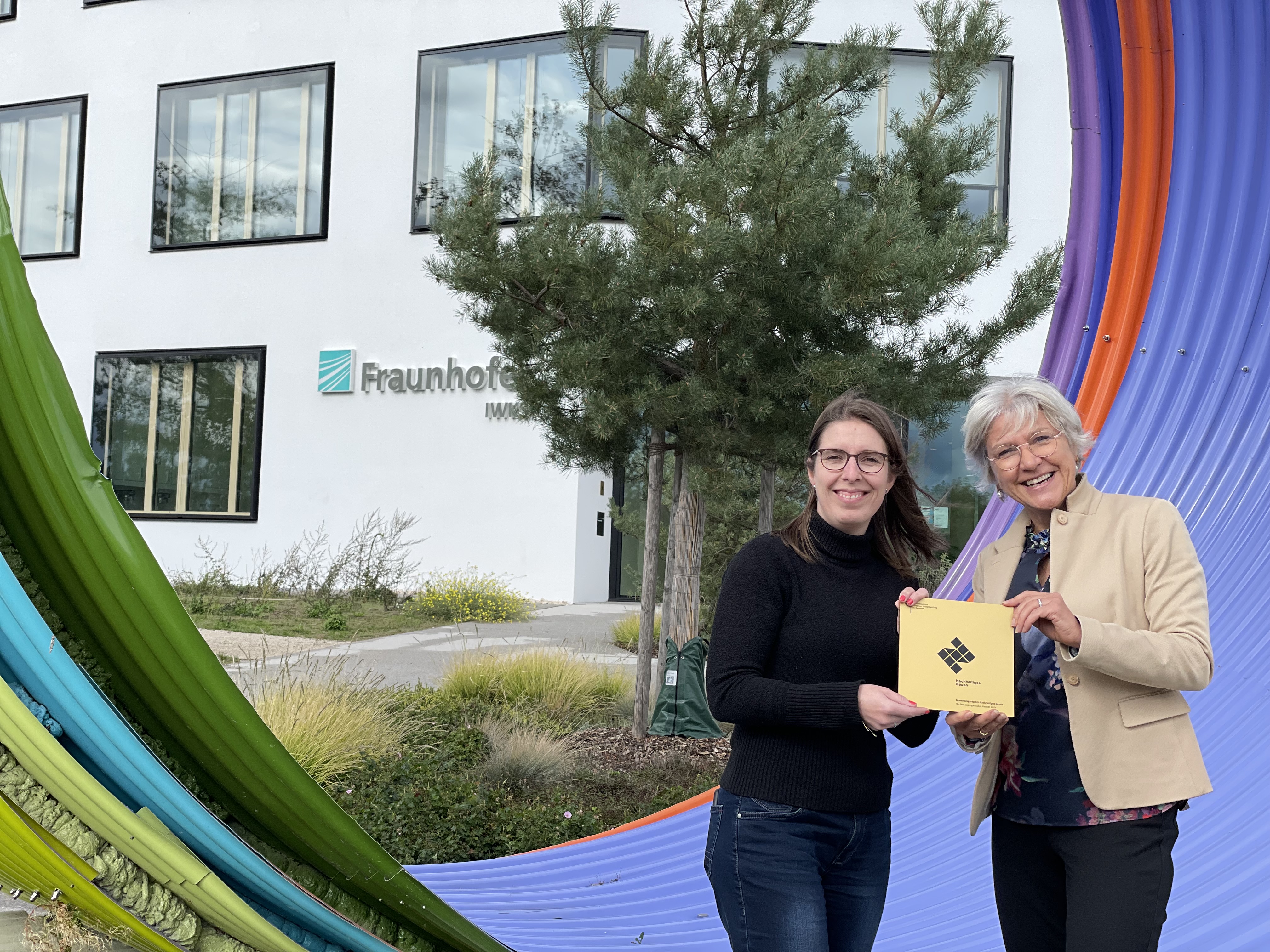 The evaluation is based on various ecological, economic and socio-cultural parameters and takes technical aspects and processes over the entire life cycle of a building into account and makes its sustainability measurable. Since the construction planning and execution of the two Fraunhofer IWKS buildings, these criteria have been met in an exemplary manner. "We focused on sustainability - and not just in our research priorities," says Professor Dr. Anke Weidenkaff, Institute Director of Fraunhofer IWKS. "From the very beginning, we attached great importance to planning and building sustainably in both properties. We are very happy about these awards, as they show that we have succeeded. Moreover, we are very honored to be the first among the 76 Fraunhofer institutes and research facilities to have achieved BNB certifications in gold and silver." And Dr. Andrea Gassmann, deputy institute director at Fraunhofer IWKS, also confirms: "With our research on circular economy, we stand for responsible use of the earth's resources. Our goal is to recover valuable raw materials, recycle them or replace them with sustainable alternatives. We have comprehensively translated this aspiration into our new buildings."

Decisive evaluation criteria

The consistent implementation of a resource-efficient circular economy in the planning and construction of the buildings was particularly decisive for the BNB assessment. For example, instead of composite materials, recyclable constructions have been used to enable a sustainable deconstruction of the buildings. Another factor was the usage of materials without harmful substances. The attractively designed working environment and the particularly healthy indoor climate of the buildings also had a positive impact on the assessment. These include a high availability of daylight and visual connections to the outside, communication-zones and short distances to promote exchange between the scientists. The buildings' economical use of space and sustainable heating and cooling were also rated positively.

Since fall 2020, the two research buildings have been the workplace for around 100 employees. In Hanau, the department for recyclates for electromobility applications is being further expanded with the areas of batteries and fuel cells, electric motors, and high-performance electronics with industrial partners. At the Alzenau site, research work focuses on the main topics of digitalization and resources, including economy and ecology in the circular economy and bioeconomy.